Coral Restoration Bangka Island
It's been nearly six months since we started collaborating with Ocean Gardener and Murex Dive Resorts on a coral identification and restoration project in Bangka Island Sulawesi. And we're happy to report that coral fragments are growing nicely, and we've started transplanting corals to their final restoration site.
If you're interested to learn how to identify corals you can now take a full three day, five dive course with trained instructors and become a certified coral diver! Check it out, it's called the Ocean Gardener Coral Diver Course.
As part of this course, you are able to visit the Murex Bangka Island coral nursery and help with the ongoing coral restoration work.
https://www.facebook.com/OceanGardener/videos/296300224641064
The coral reefs in North Sulawesi are already quite healthy and, have been identified as one of the 50 reefs around the world which are least vulnerable to climate change and have the highest potential for regenerating in the future. In a Seaview survey from 2018 researchers were optimistic for the resilience of coral reef in Sulawesi as they have been spared the recent coral bleaching and ocean warming crisis.
In an effort to continue building this resilient coral reef ecosystem, the aim of the Ocean Gardener project is to restore and then care for reefs which have been damaged by destructive fishing. The first restoration area is located behind the Murex Bangka Dive Resort with a focus on restoring the robust Acropora and Turbinaria colonies which help to dissipate waves and buffer the coastline.
Coral Restoration Bangka Island: First Restoration Site
To accomplish this restoration, and include Ocean Gardener students in the process, we first established a nursery area to begin growing broodstock coral colonies. Students of the course can visit this nursery and help fragment and maintain the nursery tables.
We stocked the nursery with a mix of fast and slower growing corals, including branching corals, Acropora, Gonipora, and Montipora, plating Turbinaria, Pachyseris, Montipora, a photosynthetic Isis gorgonian, and three species of soft leather corals, Lobophytum, Sarcophyton, and Sinularia.
Progress of Bangka Island Nursery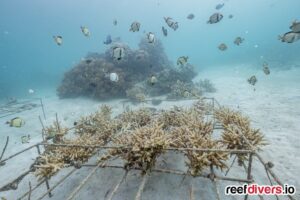 When we visited the nursery last month we were happy to see one of the faster-growing species Acropora vermiculata which had nearly overtaken the nursery. From a few small branches rescued from the sand we now have a healthy broodstock population to collect fragment for transplanting to the Bangka back reef.
During this trip, we were able to start the restoration phase of the project replanting corals. We collected various coral fragment from the nursery to fill spider structures on the back reef at Bangka island.
The Restoration Site
The restoration site is behind the Murex Bangka Resort. To prepare the site we laid out two 30m transect lines and documented the site along the length of the line. Along the line you can see many broken Acorpora branches in the sand.
The site is between 7-8m deep on a reef slope. Further up the slope toward shore are large colonies of Acropora nobilis, a thick branching coral which is most likely the same species as the dead branches at this site.
Along the 30m line, we set 11 spider frames above areas with broken corals for a total of 22 frames. We populated these frames with a mix of branching, plating, and soft corals.
On the spider frames, we added the Acropora vermiculata, and Acropora formosa corals which were grown at the nursery, as well as some Sinularia and Isis fragments from the nursery. We also surveyed the A. nobilis corals in the shallow and collected broken fragments from three colonies.
Along this transect site, we also pass through an impressive stand of Turbinaria corals which appears to be damaged long ago by storms or fishing. We placed two frames in this area and will focus effort on restoring these robust plating corals next.
If you would like to get involved with this project and learn more about coral identification in North Sulawesi, sign up for the Coral Diver course at the Murex Dive Resort. The course is offered at Murex Manado, Mured Bangka, and Critters at Lembeh Resort.